Post by PostmasterGS on Dec 30, 2013 17:41:10 GMT
Another highlight from the collection -- the 1914
Luftschiffexpedition
to New Guinea.
Prior to WWI, the island of New Guinea was controlled by three European powers -- Germany, Britain, and the Netherlands. Despite their claims to the entirety of the island, very little of the territory had actually been explored. The interior is one of the most inhospitable places on Earth, and the colonial powers confined their settlements primarily to the coastal plains.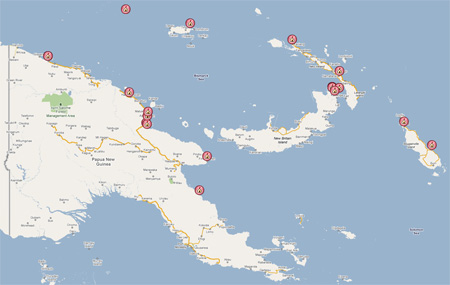 Link to Google Map of German Post Offices in Deutsch-Neuguinea
In 1913, the three colonial powers began planning for a joint expedition to New Guinea with the purpose of exploring and mapping the interior of the island via airship. The Dutch backed out of the project early on, but the Germans and English continued on schedule for a voyage in 1914. The airship was to be crewed by a joint crew, with scientists aboard from both countries. The man selected to lead the expedition was
Lt Paul Graetz
, a German officer who had famously been the first man to drive across Africa in an automobile.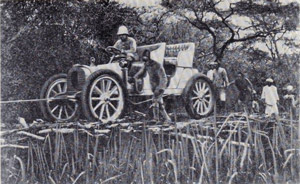 Graetz crossing a wooden bridge on his drive across Africa, 1907-1909
In order to promote and help finance the Luftschiff Expedition, a pair of stamps was printed beginning in Jully 1913. These stamps were not valid postage, but could be purchased as collectors' items or for use with valid postage. Proofs of 2 RM and 1,000 RM values exist, but only the 2 Pfennig and 1 RM values were produced for sale.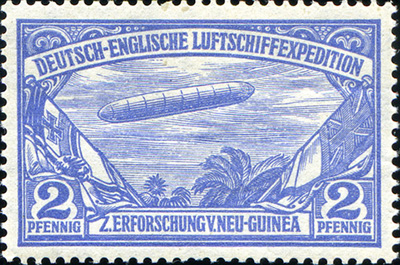 Sieger I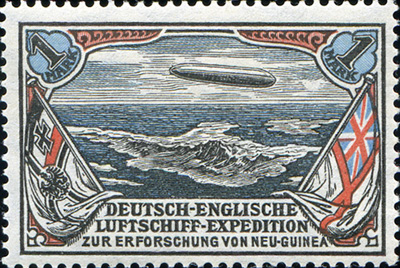 Sieger II
The Luftschiff Expedition was scheduled for 1914, but was cancelled due to the outbreak of World War I. The stamps therefore never made it into widespread circulation, and are considered extremely rare. Used copies are even more rare. Only three used copies of the 2 Pfennig value are known to exist.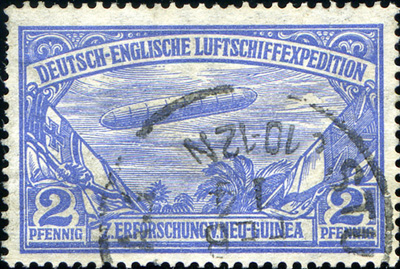 One of the other two known used copies of Si I is on cover with the only known used copy of Si II. It's the Holy Grail of these issues, and it was last seen at auction in September 2013, when it sold for €13,500.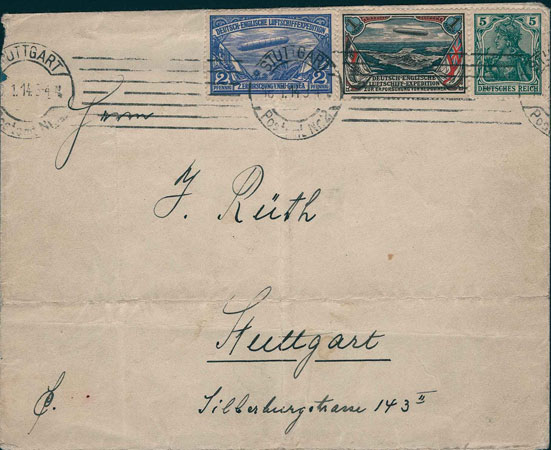 Si I and II on cover (not from my collection)
Additionally, the Verlag der Hilfsstelle für vaterländische Arbeit (Publisher of the Aid Agency for Patriotic Work) in Berlin produced postcards advertising the Expedition.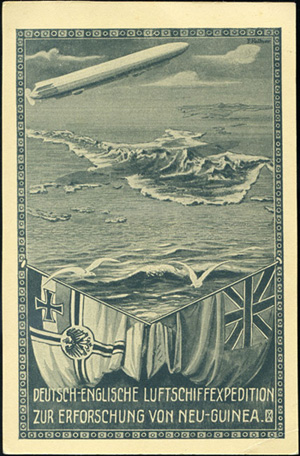 And as an added curiosity, here's a piece of German postal stationery (Frech 106B-16/02) produced in 1934 as an advertisement for Heinrich Keimel, a stamp dealer in Munich. On the front, a photo of the 2 Pfennig issue and the statement "Diese Marke such ich zu kaufen" (I'm looking to buy this stamp).