Post by PostmasterGS on Apr 11, 2014 13:19:22 GMT
Here's a unique one from the collection. First, a little background...
In the 19th Century, it was common for European governments to spread their influence around the world by encouraging domestic companies to venture abroad and conduct business in colonies, treaty ports, or underdeveloped countries with valuable trade opportunities.
In doing so, however, the companies often faced a problem -- postal service could be unavailable or unreliable in these areas. To solve this problem, the European powers would frequently open local postal agencies for the sole purpose of serving their own interests in the foreign country. Among these overseas postal agencies was the German postal agency in Turkey. It was first established in Constantinople on 1 March 1870 to provide mail service to German companies operating in Turkey.
Over the next 44 years, Germany would operate her postal agency in Turkey. She would eventually open post offices in Jaffa, Beirut, Jerusalem, Smyrna, and several additional offices in Constantinople. All office were closed on 30 September 1914 by voluntary agreement between Germany and Turkey.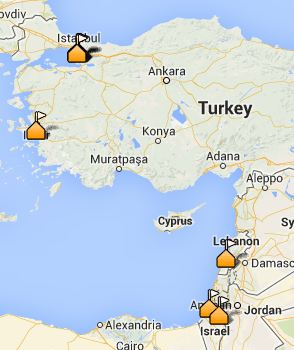 Map of German post offices in Turkey
The postal history of the German Offices Abroad in Turkey is quite colorful, but this is perhaps her most unusual item. The city of Smyrna (modern Izmir), Turkey, was famous for its raisins. Dealers in Smyrna would frequently mail raisin samples to prospective buyers around the world. The raisin samples were mailed in small, round packages (in German, musterpäckchen), with postage attached directly to the container.
This presented a problem, however, in that the packages were fragile, and the normal metal canceller would damage the package. To solve this problem, they developed a rubber canceller solely for use on the raisin packages. This cancel is commonly referred to as a
Smyrna box cancel
or raisin cancel (in German, Rosinenstempel).
The cancel can be found in two variations -- one with stars and one without.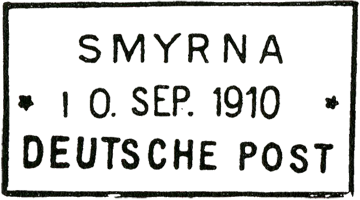 Cancel with stars: 17 Aug 1910 - 30 Sep 1914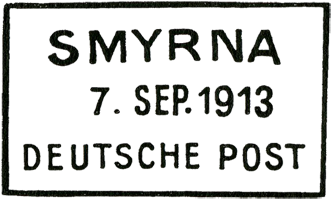 Cancel without stars: 19 Nov 1912 - 30 Sep 1914
Because this cancel was unique to raisin samples, it's easy to distinguish stamps which were used for this purpose, even off-piece.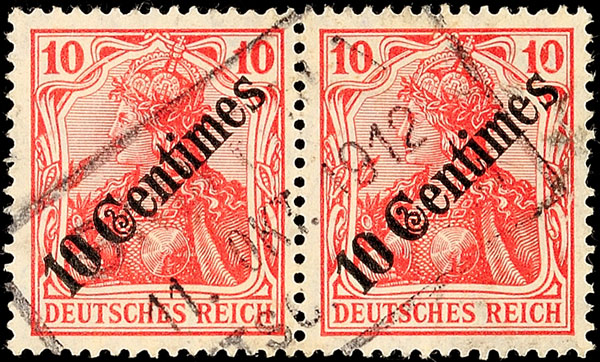 Smyrna Rosinenstempel off-piece (not from my collection)
The stamps with complete cancel are fairly rare complete on-piece. This example, from my collection, features a complete, round top/bottom of the sample package, with three copies of Michel 36 and one copy of Michel 37, all with complete cancels. The arrival cancel is from Laggenbeck, Germany.