Post by tomiseksj on Apr 18, 2017 15:45:44 GMT
Linn's has posted an
excellent article
by Charles Snee (
Four Flags coil stamps latest issue to be counterfeited; one bogus version more convincing than its competitor
) that addresses counterfeits of the Four fFags coil stamps printed by Banknote Corporation of America for Sennett Security products (Scott 4637-4640).
This image, taken from the Linn's article, shows a crude counterfeit at left, a high-quality counterfeit at center, and a genuine stamp at right.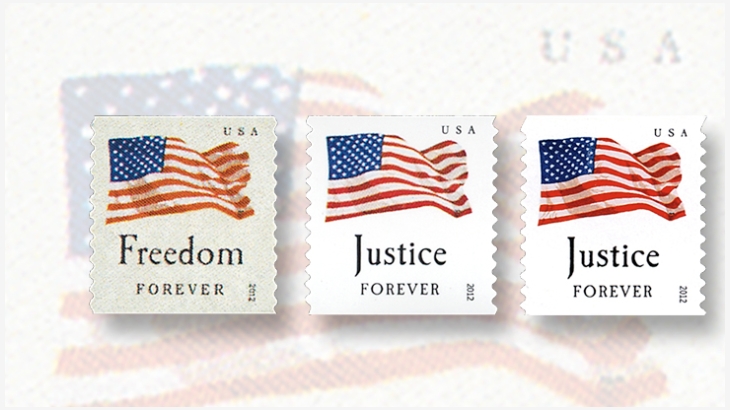 The article provides the following key characteristics to help discern counterfeit from genuine:
"1. The grayish background of the poor-quality counterfeits, when viewed under 60x magnification, shows a loose pattern of blue, red, and yellow dots.

This gray background is the easiest way to separate the bad counterfeits from the real stamps. The background is clear on genuine stamps and on the better counterfeits.

2. The die-cut peaks on the crude counterfeits are much shorter than the peaks on both the better-quality counterfeits and genuine stamps.

3. When viewed under shortwave ultraviolet light, the high-bright paper of the crude counterfeits glows blue; the more convincing counterfeits do not glow because they are not printed on high-bright paper. Genuine stamps show the typical yellow-green glow from the prephosphored (tagged) paper.

4. Under shortwave UV light, the reactivity of the backing paper is reversed: dead for the poor bogus stamps, and blue for the high-quality counterfeits.

5. The red stripes of the U.S. Flag on both counterfeit types are thinner than those on genuine stamps.

6. The lithographed dot pattern of the flag is very coarse on the bad counterfeits and somewhat coarse on the better counterfeits. Genuine Four Flags coils have a tight dot pattern that yields a clear, crisp image, particularly in the shading lines on the flag stripes.

When compared side-by-side, the high-quality counterfeits look like an exact match with the real stamps. When magnified 60 times, however, the coarse dot pattern of the flag on the bogus stamps is readily distinguishable from the pattern on genuine stamps.

7. Both counterfeit types lack the microprinted "USPS" that appears just above and to the far right of the flag's bottom red stripe on genuine stamps.

The counterfeiters did get one thing right with both bogus issues: They are perforated gauge 11 like their genuine counterparts."