Post by PostmasterGS on Apr 24, 2021 2:54:08 GMT
Here's another interesting one from the collection.
As usual, let's set the scene first. Upon the opening of the first German PO in Kiautschou, the postage in use was that of the German PO in China. Specifically, German Krone/Adler (Crown/Eagle) issues with either a 45° or 56° overprint.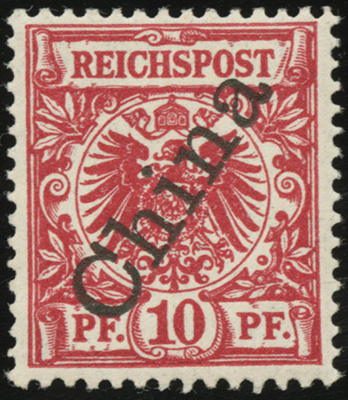 German PO in China MiNr. 3 II a
Prior to 30 April 1899, the postage rates from the German colony in Kiautschou to Germany were those of the UPU — 10 Pf for postcards and 20 Pf for letters. The population of the colony was largely military — Kiautschou was home of the German East Asia Squadron of the Imperial Navy — and there was a high demand for 10 Pf stamps since postcards were the favored means of communications with family and friends back in Germany.
On 1 May 1899, however, the German domestic rate became applicable to mail between the colony and Germany, reducing the rates to 5 Pf for postcards and 10 Pf for letters. This led to a huge increase in demand for the 5 Pf stamps, of which there wasn't a large supply on-hand or easily obtainable from other German PO's in China.
The issue came to a head on 20 April 1900 when the steamship
Dresden
arrived carrying 1,000 more men, quickly depleting the remaining stock of 5 Pf stamps. The Director of the Tsingtau Postal Agency, Senior Assistant Messer, decided to overprint 10 Pf stamps with a new 5 Pf value for use as provisional 5 Pf postage.
The Tsingtau Mission station had a printing press, so they were tasked with the job. They overprinted a total of approximately 50,000 stamps, of which approximately 1/4 to 1/3 were the 45° variety and the remainder were the 56° variety. The overprint consisted of a blue line through the old value and a '5 Pfg.' overprint.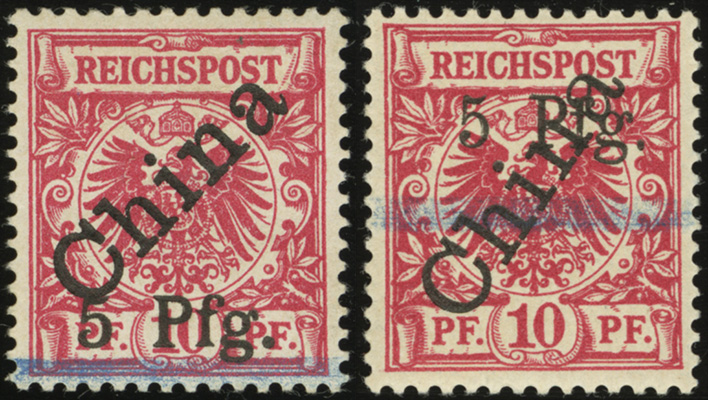 MiNr. 1 I (left) and MiNr. 1 II (right)
The mission station's press could only overprint 50 stamps at a time, and there were insufficient slugs to have a consistent typeface throughout. There were a total of 12 typefaces used in each group of 50. Michel catalogs these as three major typefaces and nine minor. Quantities of the three major typefaces were Type 1 (x17), Type 2 (x20), and Type 3 (x4), and the nine minor typefaces were 1 each per group of 50.
Major typeface varieties:

Minor typeface varieties:
Type 1 a — Like Type 1, but with period like Type 2
Type 1 b — Like Type 1, but with contracted 'g' like Type 2
Type 3 a — Like Type 3, but with open, broken 'f'
Type 3 b — Like Type 3, but with open, broken '5'" & 'P', lower period
Type 3 c — Like Type 3, but with bigger, rounder, lower period
Type 4 — Like Type 1, but with 'f' of Type 2
Type 5 — Like Type 2, but with 'P' of Type 1
Type 5 a — Like Type 5, but with damaged 'g'
Type 6 — '5' & 'g' of Type 1, with 'Pf' of Type 2
Michel also catalogs numerous overprint varieties and errors:
With violet instead of blue lines: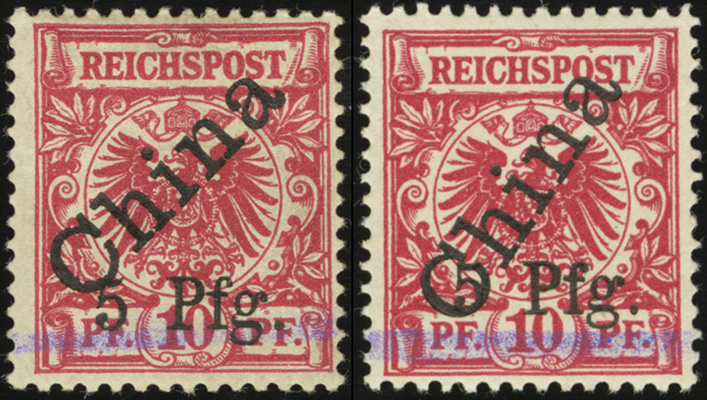 MiNr. 1 I (left) and MiNr. 1 II (right)
Without blue lines (sold only on 9 May 1900):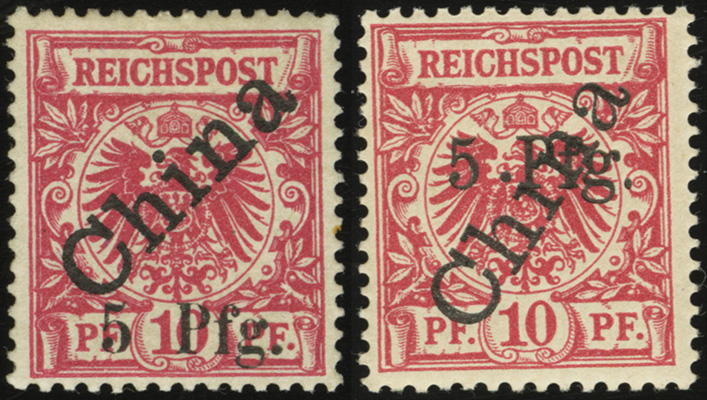 MiNr. 1 I F II (left) and MiNr. 1 II F II (right)
With overprint shifted heavily downward (45° only), without blue line known unused, with blue line known used: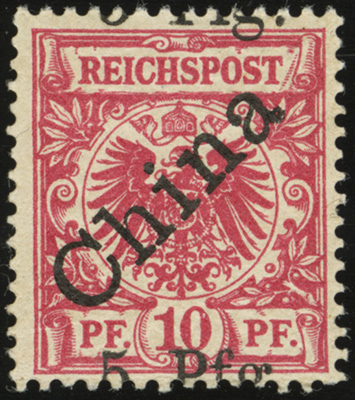 MiNr. 1 I F I
With double overprint, either right side up (45° only) or inverted (56° only), without blue line: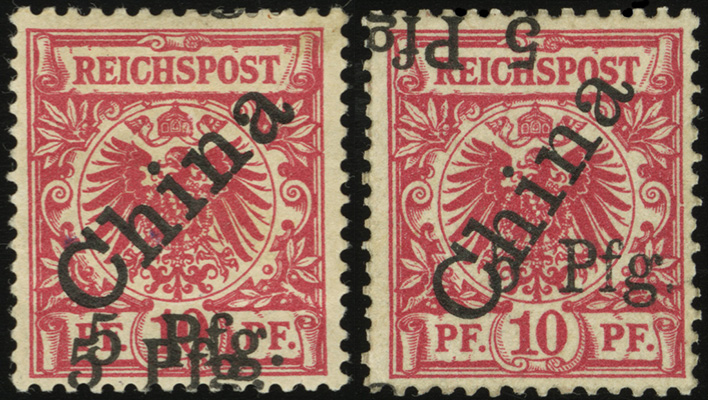 MiNr. 1 I DD F (left) and MiNr. 1 II DD K (right)
Finally, a copy exists with a shorter blue line attempting to obscure only the '10' portion of the underlying stamp. This variety was the first attempt to obscure the old denomination, and can only be confirmed as authentic in used condition where the date of use can be observed. This is the only major variety I don't yet have in my collection, as it's extremely rare. Michel CV is currently €10,000. Here's an example: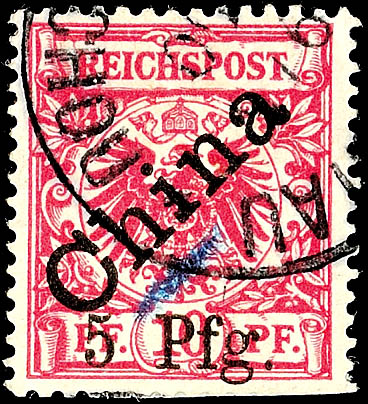 MiNr. 1 I e
Here's the set on the album pages:
Also, note that the First Tsingtau Provisional is very similar to appearance in the German PO in China
Futschau Provisional
and the later Kiautschou Second Tsingtau Provisional (more on this one later). The overprints can be distinguished by the following:
China Futschau Provisional — '5 pf'
Kiautschou 1st Tsingtau Provisional — '5 Pfg.'
Kiautschou 2nd Tsingtau Provisional — '5 Pf.'