Post by PostmasterGS on Sept 26, 2020 12:51:01 GMT
Hers's another little bit of German philatelic history.
But first, let's set the scene…
Beginning in 1886, Germany opened a series of post offices in many of the major cities of China. This was done to support and promote German business interests in the territory.
In addition, in the late 1800s, China granted a series of territorial leases to Russia, England and France. Germany was anxious to join the other European powers in getting access to Chinese goods and markets, and in November 1897, used the murder of several German missionaries by Chinese nationals to invade
Kiautschou
(a.k.a. Tsingtao, modern Qingdao). After capturing the Chinese defense, Germany forced the Chinese to accept a 99-year German lease on the territory.
So by 1898, Germany had a "permanent" presence in Kiautschou, and German post offices throughout numerous Chinese cities.
During the same period, a society arose in China composed of Chinese citizens who were opposed to the intervention and influence of western powers in China. This society went by various names, but was known in the west as the Boxers. It would eventually have between 50,000 and 100,000 members.
In 1899, the Boxers began a campaign of violence and murder in northern China, focusing in particular on foreigners and Christians. This would begin the conflict known in the west as the
Boxer Rebellion
.
In June 1900, the Boxers converged on Peking. The foreigners in Peking quickly retreated to the Legation Quarter, where the foreign governments maintained their embassies and legations, and the Boxers laid siege. This action was known as the
Siege of the International Legations
.
In response, the Eight-Nation Alliance was formed, consisting of the U.S., India, France, Italy, Britain, Germany, the Austro-Hungarian Empire, and Japan. These powers dispatched forces to defeat the Boxers and relieve the siege of the Legation Quarter. Germany contributed approximately 1,100 men and 5 warships to China to the relief expedition, with most being sailors and marines that were stationed in Kiautschou. This contribution was largely dwarfed by that of the other European powers.
To take advantage of the situation, however, Germany sent a much larger contingent (approximately 11,000 troops) as the Ostasiatischen Expeditionskorps (East Asian Expedition Corps). These troops didn't arrive until after the siege had been lifted. They then carried out a 4-month long series of punitive expeditions (35 in total) throughout northern China to further put down the Boxers.
To the philately…
With the sudden influx of Germans into the territory, postage became a problem. Germany had not yet even issued postage for use in Kiautschou, much less sufficient stocks to support an army. The only postage available in Kiautschou was a limited run of provisional overprints (the Tsingtau Provisionals — more on those later!).
The German forces were therefore allowed to use unoverprinted, unaltered German postage while in China. These became known as the Petschili Issues, after the name of the territory (North Zhili, romanized as Pei Chih-li, was a province of Imperial China that included Peking parts of Northern China). All are distinguishable from normal German usages only by their cancellations, and most come from the large stocks of postage kept on the transports that delivered the troops to China.
Michel catalogs three types, based solely on the underlying German sets:
1. Krone/Alder (Crown/Eagle) — German
Krone/Adler
stamps of 1889-1900
2. Germania — German
small
and
large
Germania stamps of 1900.
3. Kiautschou — Kiautschou
Yacht Issues
of 1901
Legitimate Petschili uses of the Krone/Adler and Germania stamps should be from either a Feldpost (Field Post) Station or from the permanent German post offices in the war territories (typically Shanghai, Tientsin, or Peking), between 1 September 1900 and 1902.
Feldpostexpedition Tientsin (1 September 1900 - 31 August 1901)
Feldpoststation No. 1 (24 November 1900 - 4 July 1901)
Feldpoststation No. 2, Peking (11 September 1900 - 31 August 1901)
Feldpoststation No. 3, Yangtsun (2 September 1900 - 30 April 1901)
Feldpoststation No. 4, Tongku (2 September 1900 - 31 August 1901)
Feldpoststation No. 5, Tientsin (3 September 1900 - 7 November 1900)
Feldpoststation No. 6, Tsingtschou (18 April 1901 - 4 May 1901), Fouping (5 May 1901 - 16 May 1901), Langtsouanking (17 May 1901 - 25 May 1901)
Feldpoststation No. 7, Potingfu (2 November 1900 - 25 July 1901)
Feldpoststation No. 8, Shanghaikuan (26 November 1900 - 31 August 1901)
Feldpoststation No. 9, Peithaho (22 May 1901 - 31 August 1901)
Feldpoststation No. 10, Kaiping (21 May 1901 - 31 August 1901), Taku Südfort (9 November 1900 - 1 January 1901)

Legitimate Petschili uses of the Kiautschou Yachts should be from Feldpoststation Nr. 2 or the Peking P.O., mainly from April-November 1901.
With regard to all cancels, however, numerous exceptions to the "proper" post offices exist, as the philatelic value was recognized at the time, and due to the military situation, regulation was lax. Cancels from almost all German post offices in China are known.
Viewing the sets as a whole, the Krone/Adler Petschili Issues are the rarest, though by catalog value they aren't as valuable as some of the larger Yacht Issues. Michel catalogs seven face values, with two of those having several color variations, for a total of 11 issues. Only one is common (CV 150€), and it was the one value (2 Pf) that's wasn't sold in China. It appears that copies were sent en masse to China for philatelic reasons, which would explain their availability, lower CV, and propensity to have cancels that indicate philatelic usage. The remainder are ridiculously hard to find.
I don't own any Krone/Adler Petschili Issues at the moment, so for demonstration purposes, here's a copy that just went unsold at auction this week with a starting price of 2,000€. It's a 10 pfennig value of the Krone/Adler series, with Michel CV undetermined.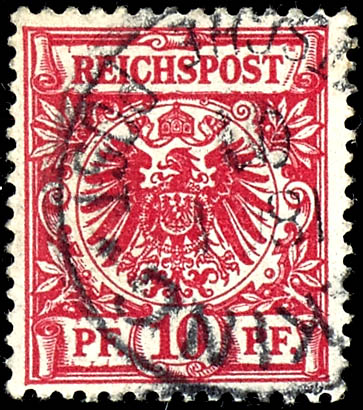 MiNr. P V ac/e, canceled in Peking on 18 January 1901
I do, however, have a fairly complete collection of the Germania (MiNr. P V series). I'm only missing 4 stamps, of which one is common (P V a), one is fairly common (P V k II), and two are practically impossible to find (P V da and P V m). The 5 Mark value is rare because there was little use for that denomination, and the 25 Pfennig is rare because it wasn't among the stocks transported to China, so the only copies are those carried by individual soldiers.
Hers's an example and the album pages.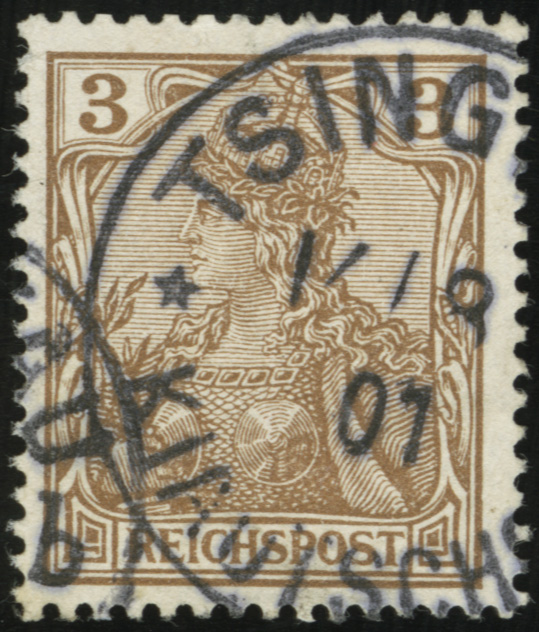 MiNr. P V aa, canceled in Tsingtau, 14 August 1901
As to the Kiautschou Yacht Petschili issues (MiNr. P VI series), I'm only missing one value — the 1 Mark. It's fairly common, and I just missed out on one at auction this week. The pages shown below show two additional missing values — those stamps are en route from Germany as we speak! Again, here's a sample and the album pages.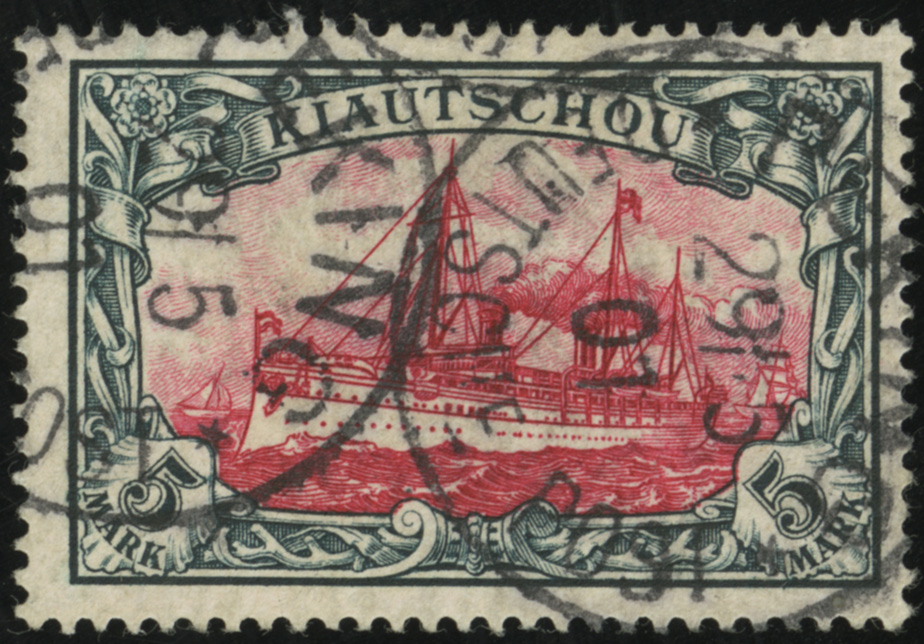 MiNr. P VI n, canceled in Peking, 29 May 1901
To see these collections on my website, see
here
for the Germanias and
here
for the Yachts.
So if you have some of the proper German or Kiautschou postage and you haven't checked the postmarks, I would encourage you to do so. You could have a valuable one on your hands.